PCS Web Design News Archive
Business Transition Strategies (BTS), a division of New Hampshire Business Sales (NHBS) is pleased to announce the launch of their newly redesigned website at www.businesstransitionstrategies.com. Jim Fontaine, owner and Internet Architect at PCS Web Design, worked directly with the owners of NHBS and BTS, Leon Parker and Ivor Thomas, as well as Melanie Heinis, their Operations Manager, to address technology concerns surrounding the development and launch of their new CMS-enabled websites. Ease of use, for both their site visitors as well as their staff, was a top concern. Multiple design iterations to fine-tune the navigation and presentation layers payed off with clean, easy-to-navigate site designs that retained enough of their existing marketing and branding to be clearly identified with the firm. Data, content, and features migration was another area where PCS Web Design was able to use its expertise to reduce the perceived stress of moving to CMS-enabled websites. PCS Web Design was able to integrate key functions of their normal day-to-day operations (listings and forms management, blogging) directly into their CMS-enabled websites. Onsite training and remote support sessions have eased the transition into working with their new CMS system as well. The websites for both firms were launched concurrently. (See NHBS' website launch announcement.)
New Hampshire Business Sales (NHBS) is pleased to announce the launch of their newly redesigned website at www.nhbizsales.com Jim Fontaine, owner and Internet Architect at PCS Web Design, worked directly with the owners of NHBS, Leon Parker and Ivor Thomas, as well as Melanie Heinis, their Operations Manager, to address technology concerns surrounding the development and launch of their new CMS-enabled website. Ease of use, for both their site visitors as well as their staff, was a top concern. Multiple design iterations to fine-tune the navigation and presentation layers payed off with a clean, easy-to-navigate site design that retained enough of their existing marketing and branding to be clearly identified with the firm. Data, content, and features migration was another area where PCS Web Design was able to use its expertise to reduce the perceived stress of moving to a CMS-enabled website. PCS Web Design was able to integrate key functions of their normal day-to-day operations (listings and forms management, blogging) directly into their CMS-enabled website. Onsite training and remote support sessions have eased the transition into working with their new CMS system as well.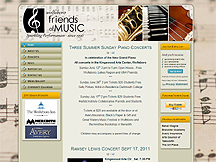 Wolfeboro Friends of Music is pleased to announce the launch of their new website. Wolfeboro Friends of Music (WFOM) has been bringing world-class musical entertainment to the Lakes Region of NH since 1936. As a non-profit organization, maximizing their return on their investment in their new website was a given. PCS Web Design was able to integrate the new CMS-enabled website with several of their existing service providers so that things that were working well for them would continue to do so. WFOM is now able to easily update and maintain their own website content as well as bring in additional revenue through the expanded advertising and marketing opportunities the new website design provides. In addition to the design, PCS Web Design is also providing hosting and marketing consulting guidance to help WFOM get the most from their new online presence at www.wfriendsofmusic.org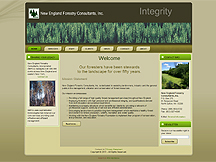 New England Foresty Consultant's (NEFCo.) redesigned website goes LIVE. NEFCo. is pleased to announce the launch of their newly redesigned website at www.cforesters.com PCS Web Design worked closely with Kristin Brooks at NEFCo. to deliver a website design that would accurately represent the quality and commitment to forestry stewardship that is NEFCo.'s hallmark. Simplified navigation, an entirely updated appearance, and the retention of desirable existing elements was the focus of this project. We're pleased with the results and have had positive feedback from site visitors thus far.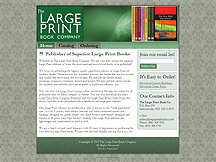 The Large Print Book Company, a 38-year old family run business, sought the services of PCS Web Design to create a fresh new look for their online presence. Their previous website was out-of-date and didn't accurately portray their reputation for providing the highest quality books in large print. PCS Web Design was able to deliver a site more in keeping with the customer's design goals and within their limited budget. PCS Web Design helped to directly target their niche market by making the website as easy-to-read as their large print books by specifying larger-than-normal fonts in the CSS of the website design!