PCS Web Design News Archive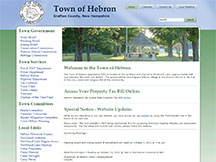 The Town of Hebron, NH has launched its new CMS-enabled website planned, designed, and hosted by PCS Web Design in concert with the Town's Executive Assistant and board of Selectmen. In addition to the Town's new website, PCS Web Design has been providing ongoing IT consulting, network configuration and management, VPN configuration, backup, and custom-built computer systems to meet the growing technology needs of this quintessential New England town.
It has been a pleasure assisting the Town of Hebron to meet its growing IT needs by providing sound planning advice to ensure that their technology remains current within their capital expense and operational budgets. Simplifying day-to-day IT tasks via automation and remote support helps to stretch the Town's dollars in true New England fashion.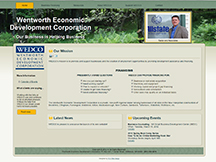 The Wentworth Economic Development Corporation provides business financing, counseling and other business development services to clients in communities located primarily in northern Strafford and southern Carroll County NH, is pleased to announce the launch of their newly designed website developed by PCS Web Design. Denise Roy-Palmer WEDCO Executive Director states: "This new website provides a valuable marketing tool for our organization as well as a tremendous resource for new and existing businesses in the region. It has been a pleasure working with PCS Web Design because of Jim's professionalism, knowledge and efficiency throughout the website's development process and launch."

The CMS-enabled website provides instant access to managing and adding content to the website while providing capabilities to support the organization's future growth. The new website design integrated some of their existing technology while providing new and enhanced features their prior website architecture lacked. Jim Fontaine, the owner and Internet Architect at PCS Web Design, was pleased to have been involved in the project since WEDCO's mission of helping local businesses to thrive strongly resonates with the work PCS Web Design offers its clients.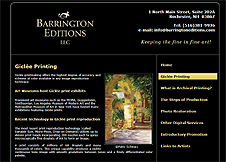 Barrington Editions LLC recently had PCS Web Design revamp their website. Their prior web developer had moved out of the area and although their relationship was amicable, it was proving to be simply an issue of wanting to work with a local resource. Jim Fontaine, owner of PCS Web Design, was more than happy to step in and work with John Cooke of Barrington Editions on their website redesign. Barrington Editions LLC provides high-quality digital imaging services and fine art reproductions to a wide variety of clientele. The redesign was focused on maintaining the existing look-and-feel while addressing minor architectural and layout issues that had crept into their website over time.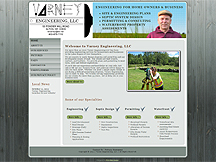 Varney Engineering LLC hired PCS Web Design to redesign their website. Jim Fontaine, Internet Architect and the owner of PCS Web Design, met with Tom and LuAnne Varney several times during their website redesign project. 2011 marks 35 years and counting of providing professional engineering services to the Lakes Region of New Hampshire by this family owned and operated business with strong ties to the local community. The redesign was focused on developing an online presence that resonated with the family while clearly communicating the breadth and depth of services that their company offers. The owners are very pleased with the results and are looking forward to what their long-time clients have to say.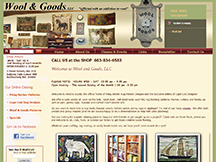 Wool and Goods, LLC's new website is ready to take orders at www.woolandgoods.com. Wool and Goods hired PCS Web Design to resurrect the owners' dream of having an e-commerce website. After several frustrating attempts at having an e-commerce website built for their unique product line, owners Rae and Kathy sat down with Jim Fontaine, the owner of PCS Web Design, and began the process of re-envisioning what they wanted. PCS Web Design's experience with delivering e-commerce enabled websites was able to turn their dream into a reality. Not only does Wool and Goods' new website provide the e-commerce capabilities the owners were looking for -- but, it also allows them to maintain and manage every aspect of their website's content, inventory, and online sales. Onsite training and ongoing support during the launch of their new website alleviated much of the stress that surrounded their previous attempts. Feedback from some of their best clients has been overwhelmingly positive. "It's always a pleasure to help business owners directly when they've experienced less-than-ideal service prior to working with PCS Web Design." states Jim Fontaine, PCS Web Design's owner and Internet Architect.