PCS Web Design News Archive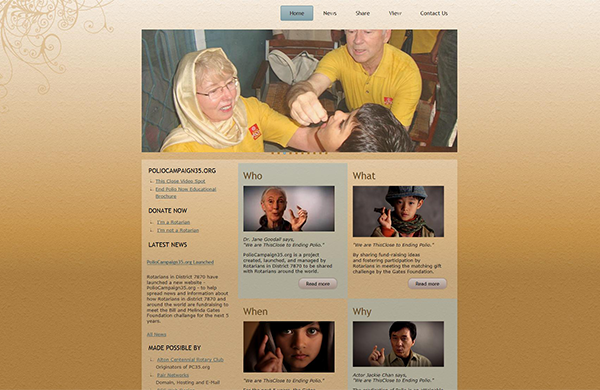 The owner of PCS Web Design, a Rotarian, donated his time and talent to design and create the Polio Campaign 35 website following a discussion with another member of the Alton Centennial Rotary Club about a fund-raising idea that centered on Rotarians in their club making a commitment to make three donations of $3.50 during the month of November. The website was created to share this idea with the sixty Rotary Clubs in District 7870. The aforementioned member of the Alton Centennial Rotary Club, ADG David Countway, and his wife Sylvia made a personal trip to Pakistan in 2012 to participate in Rotary sponsored Immunization Days. Since making that trip, David has inspired and worked with other Rotarians throughout District 7870 to keep Rotary's efforts to End Polio Now always in our thoughts. And, if all goes as planned, by the end of 2018 the world will see the end of this devastating disease.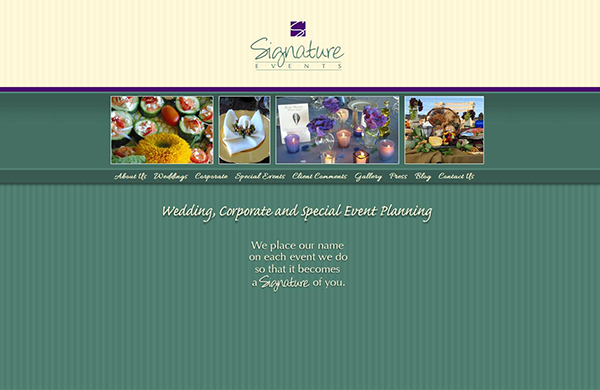 Signature Events owner Amy Piper, a premier event and wedding planner, had some pretty specific ideas when she had her website originally designed. In fact, it was very important to her that the look-and-feel of her new website not change significantly. PCS Web Design was tasked with upgrading the original static website to a CMS-enabled design so that the business owner could update and add new photos to her extensive galleries efficiently without having to dig into any HTML or CSS. The results, which took some planning (no pun intended!), spoke for themselves - the new website looks and behaves almost identically to the original but it is now on a powerful, robust, and stable CMS platform.