PCS Web Design News Archive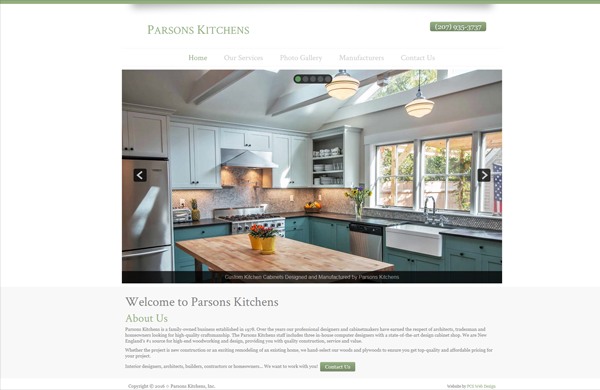 Parsons Kitchens, a high-end custom cabinetry manufacturer located in Brownfield, ME, contacted PCS Web Design as a result of a Google search. The initial conversations centered around the design aesthetics and features they wanted in their new website. It was a pleasure working closely with this family owned and operated business and PCS Web Design was able to create a look-and-feel with which the owners were extremely pleased. We like to think that craftsmanship - regardless of the medium - is recognized and appreciated by everyone. Just as Parsons Kitchens offers custom cabinetry and fine woodworking to meet the needs of their customers, PCS Web Design offers Positively Creative Solutions to theirs!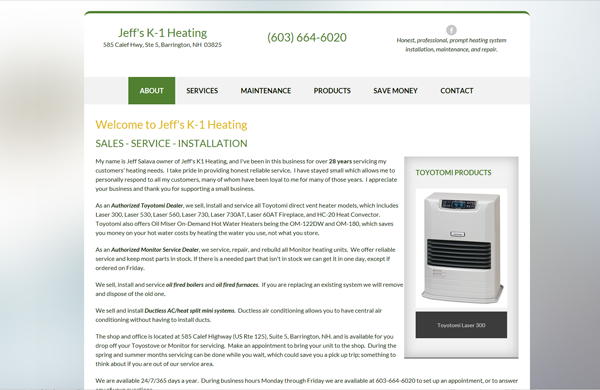 Jeff's K1 Heating located in Barrington, NH is a heating and cooling installation company that's been experiencing steady growth. Owner Jeff Salava needed a new, professionally designed website that accurately portrayed his growing company and contacted PCS Web Design at the recommendation of father - Sandy Salava of Great Bay Insurance Agency in Dover, NH - who also happens to be a client of PCS Web Design. The new website is just what the owner wanted and is now integral in supporting his marketing and advertising campaigns.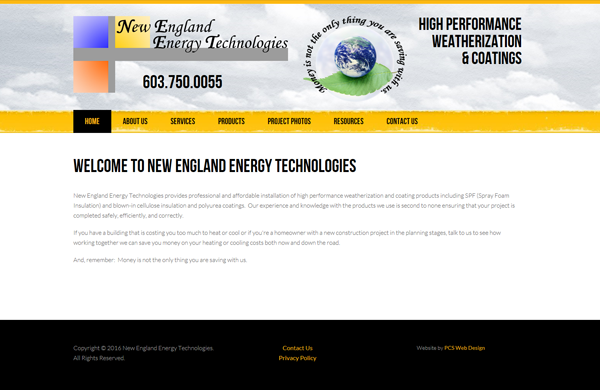 New England Energy Technologies is a spray foam insulation and specialty coatings contractor located in Dover, NH. Owners "Z" and Lee, by their own admission, "Love to spray foam!" It's their passion for their work that makes their experience and knowledge all the more valuable to their clients. They needed a website that could convey to their customer that not all spray foam contractors are the same. PCS Web Design used key elements from their corporate branding to build a website that met the owners' personal design goals while giving them the ability to manage their content directly.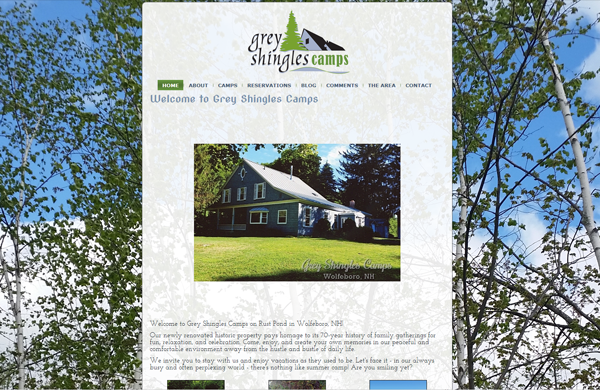 Grey Shingles Camps is Wolfeboro NH's newest vacation destination. Jim Fontaine of PCS Web Design worked closely with the new owners of this property located in the Oldest Summer Resort in America - Wolfeboro, NH - to deliver a website that quickly got their property found and booked in its first season of operation. PCS Web Design, being familiar with the hospitality industry, was able to create a visually appealing website that showcases the unique property and vacation rentals afforded travelers looking for a vacation that hearkens back to simpler times without foregoing the amenities that the modern and sophisticated traveler expects.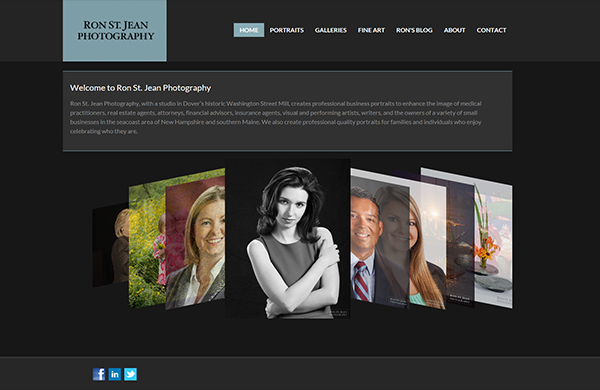 Ron St. Jean Photography needed a website that could showcase the photographer's exceptional work and provide for updates performed quickly and easily. PCS Web Design worked with Ron to meet both requirements. In this day and age when everyone with a cellphone thinks they are a photographer, Ron's body of work continues to impress clients who know better! When your business' reputation is on the line, it's important that the images you select for your website represent you, your products, or services in the best light possible. Call Ron and discover what his professional photography services offer that your cellphone simply can't.