The Problem: The Wright Museum had outgrown its previous website's capabilities. Since the Museum's website had grown over many years on a static, HTML-only infrastructure, the addition of new content and ongoing maintenance was becoming too time-consuming and difficult.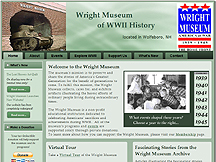 The Solution: Jim Fontaine, the owner of PCS Web Design, met with Mark Foynes, the Executive Director of the Wright Museum, to discuss the immediate needs and long term requirements that the Museum's new website would need to meet. After assessing the Museum's needs, PCS Web Design created an entirely new website based on a CMS-enabled architecture and migrated the Museum's extensive collection of existing content as well as added entirely new content. New capabilities include: an excellent calendar/scheduling module to keep the Museum's membership and the public informed of the many lectures, special exhibits, and events that the Museum holds; the ability for the 501(c)-3 to accept donations online; and, an integrated gallery to share many of the Museum's photographs of its extensive collection of WWII artifacts and memorabilia - some of which are the only ones of their kind.

The end result: The Wright Museum's new website allows them to add valuable new content regularly and manage all of their content quickly and efficiently, thereby reaching a wider audience interested in supporting the Museum's important work.

PCS Web Design's owner, Jim Fontaine, had this to say, "When the Wright Museum approached me to discuss their needs, I was immediately excited by the prospect of being able to play such an important role in helping to meet the goals of the Wright Museum and its mission. Having had a grandfather who received a Purple Heart during the Invasion of Normandy (D-Day operations), and taking into consideration the current conflicts America is currently involved in, the importance of reminding all Americans of the sacrifices made by so many during WWII is as relevant today, if not more so, than ever before."
(NOTE: The Wright Museum now has the resources and talent that has allowed them to move their website in-house. PCS Web Design maintains a professional relationship with this wonderful organization and is very proud to have provided their website, hosting, and technology advisory services from 2010-2015.)